Dry Needling in Rocky River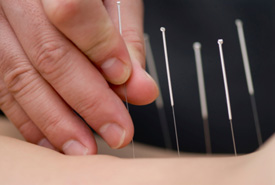 What is Dry Needling?
Dry Needling is like acupuncture only in that is uses a needle. In Acupuncture, a needle is placed on an acupuncture point or combination of points to produce relief for a specific symptom or health challenge.
In contrast, Dry Needling uses needle placement in an area of myofacial tension or a trigger point. The treatment is very comfortable and eases the knots right away. Lots of research has been done on the subject of Dry Needling by several physicians (Janet Travell, MD, David Simons, MD, Peter Baldry, MD, and Karel Lewit, MD).
Ready to get started? Contact our team today.
---
Dry Needling Rocky River OH | River Chiropractic & Wellness Center