Chiropractic Services In Rocky River
Acupuncture/Meridian Therapy/Auriculotherapy
In 1951 Dr. Yoshio Nakatani M.D., Ph.D. developed a method of examining the meridian system of the body through electronic measurements which altered the way acupuncture would be practiced throughout Japan, Europe, Australia and North America. Referred to as "Ryodoraku" by Nakatani, its use would become international within 25 years of discovery… read more»
IonCleanse® Detox Foot Baths
The IonCleanse ionic foot bath provides a thorough and efficient way to cleanse and purify the body more effectively and faster than any herbal or fasting protocols, with little or no stress to the individual… read more»
HIVAMAT Therapy
HIVAMAT® is a unique, patented treatment method. Its special structure allows biologically effective oscillations in the treated tissue using electrostatic attraction and friction. In contrast to other therapies, these pleasant oscillations have a gentle and deep-acting effect on all tissue components (skin, connective tissue, muscles, blood and lymph vessels)…read more»
Orthotics
Problems in your feet can create compensatory problems in back and neck. These custom orthotics can make a dramatic difference… read more»
Webster Technique
You may have seen the Webster Technique—the chiropractic technique that helps pregnant mothers with breech babies—featured on The Learning Channel's hit series "A Baby Story."… read more»
ZYTO™ LSAPro
Combining quantum physics, biology and information theory, ZYTO technology provides an interface between living things and computers by allowing them to talk to each other… read more»
Rehabilitation for Superior Healing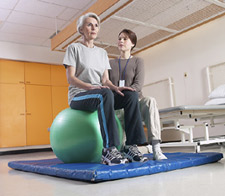 We work with the spine and extremities, offering a variety of therapies to provide quick pain relief. We work with practice members to strengthen weakened muscle groups, improving biomechanics and making them less prone to re-injury. We work closely with patients to develop individual rehabilitation programs. Our therapy department provides the following services.
Cryotherapy
Electric muscle stimulation
Hot moist therapy
Joint mobilization
Kineseo® Taping
Myofascial release
Strength training equipment
Therapeutic exercises
Are you a good candidate for today's chiropractic care? Find out today by contacting our team!