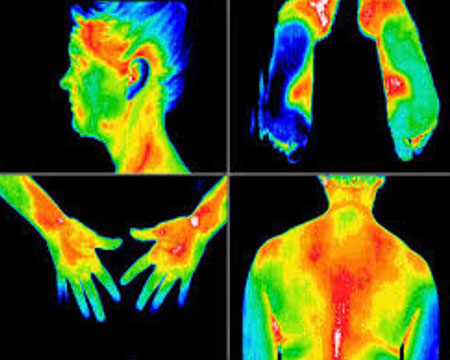 Thermography at River Chiropractic & Wellness
What is Thermography?
At River Chiropractic & Wellness, we offer Medical Digital Infrared Thermal Imaging (DITI) to measure and quantify the body's physiology, or function. Using FDA registered sophisticated medical imaging software, DITI converts infrared radiation emitted from the skin surface into electrical impulses that are visualized in color on a monitor.
This visual image graphically maps the body temperature and is referred to as a thermogram. These thermal images are then analyzed, interpreted, and risk assessed by board certified medical doctors trained in thermography. This report, which includes your thermal images, will be made available to you shortly following your appointment.
Totally Non-Invasive, Painless Procedure
DITI is used as an aid for diagnosis and prognosis as well as monitoring therapy progress for conditions and injuries including:
Arthritis
Artery Inflammation
Back Injuries
Breast Disease
Carpal Tunnel Syndrome
Dental and TMJ
Digestive Disorders
Disc Disease
Fibromyalgia
Headache
Inflammatory Pain
Nerve Damage
Referred Pain Syndrome
RSD/CRPS
Skin Cancer
Sprain/Strain
Stroke Screening
Unexplained Pain
Vascular Disease
Whiplash
[Images or Thermograms can be taken of the whole body or just areas being investigated. The digitized images are archived and sent electronically by an encrypted software to a Thermologist for interpretation and reporting.
Clinical DITI for Pain Diagnosis
Whether your pain is acute or chronic, DITA can help you get back to better health.
Providing the answers in the diagnosis of pain, DITI:
Is the only method available for visualizing pain and pathology
Can assess pain and pathology anywhere on the body
Is very a very useful adjunctive procedure to other diagnostic tools
Is very cost effective and risk free
How often should I be scanned?
DITI screenings are typically recommended on an annual or biannual basis for healthy individuals after establishment of baseline and for early detection of subtle physiological changes
CONTACT US
---
Thermography Rocky River, Lakewood OH | (440) 409-0909